Nation Media Group (NMG) chairman Dr Wilfred Kiboro speaks during the Kusi Ideas Festival in Accra, Ghana where Africa was challenged to develop capacity to be self-reliant in the face of the latest vaccine and Covid-19 politics facing the continent.
Nation Media Group (NMG) chairman Dr Wilfred Kiboro speaks during the Kusi Ideas Festival in Accra, Ghana where Africa was challenged to develop capacity to be self-reliant in the face of the latest vaccine and Covid-19 politics facing the continent.
Pool
The third edition of the Kusi Ideas Festival opened yesterday in Accra, Ghana, with three African presidents calling for more concerted efforts in tackling the Covid-19 pandemic and addressing issues affecting young people.
Ghana's President Nana Akufo-Addo said young people are the drivers of the continent's future, hence it is important to address issues facing them.
President Akufo-Addo welcomed participants at the annual event organised by the Nation Media Group, urging them to come up with ideas that can transform the continent during the two-day event.
"I am glad to welcome you to Accra, and hope the ideas that will come out of this will go a long way in improving the livelihoods of the African people. That is the fire we should strive to have – making ourselves independent," he said.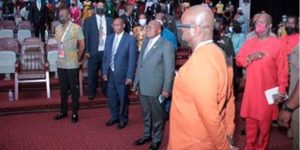 Participants during the official opening of the Kusi Ideas Festival in Accra, Ghana, on December 10, 2021
Ugandan President Yoweri Museveni said it is unfortunate that western nations are hoarding Covid-19 vaccines, yet Africa needs millions of doses as its vaccination rate remains low.
"For Africa, this has been a big problem – getting our hands on the available vaccines," President Museveni said, adding that his government has managed to contain the Covid-19 spread through a rigorous public health campaign.
Rwandan President Paul Kagame lauded the Kusi Ideas Festival for giving the continent a platform to push its own ideas and agenda.
"The Kusi Ideas Festival is about innovation. Technology creates new ideas. That's what we need. This past year, much progress has been made towards Africa's recovery," President Kagame told participants.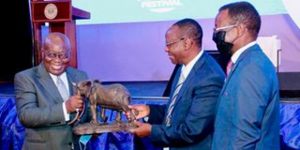 Ghana's President Nana Akufo-Addo and NMG Chairman Wilfred Kiboro admire an elephant carving
"In Rwanda, we see transformation as a process that requires thinking ahead. Going forward, we need to apply the same mindset."
President Kagame added that climate-smart agriculture should now be scaled up, given that the pandemic is threatening food security.
"To me, innovation will help us adapt to the pandemic shocks in the private sector. These are the core areas that this year's festival should look at," the Rwandan President said.
"The level of cooperation has been encouraging, and beyond the crisis, we shall continue working together."
NMG started the annual "ideas transaction market" event in 2019 as part of its 60th anniversary celebrations.
Kusi is the southerly trade wind that blows over the Indian Ocean between April to mid-September.
The first edition was held in Kigali, Rwanda, with Kisumu city in Kenya hosting it last year.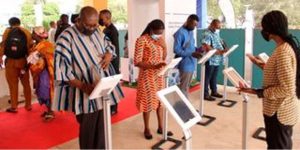 Delegates register for the Kusi Ideas Festival at the Accra International Conference Centre, Ghana, on December 10, 2021
The Accra event is broadly expected to address how Africa transforms after the virus, with various engaging sessions scheduled.
During the launch, African countries were urged to develop the capacity to be self-reliant in the face of the latest global Covid-19 vaccine challenges.
Speaking during the opening ceremony of the third Kusi Ideas Festival in Accra, Ghana, Nation Media Group chairman Dr Wilfred Kiboro challenged the continent to build on its own ideas to develop capacity to deal with the pandemic.
"We need to get out of the slumber. We have amazing human resources, even with the limited resources," Dr Kiboro told the gathering.
"Reflecting on what the last two years has taught us, I see we have a continent that is resilient and can actually turn around its fortunes through innovation, and building on its own capacities."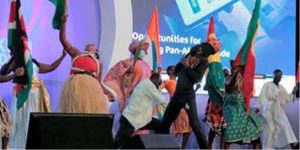 The Ghana Dance Ensemble performs a dance depicting the impact of Covid-19 on Africa on December 10, 2021.
Now in its third edition, this year's event in Accra, organised by NMG, will be seeking to draw lessons from the last two Kusi festivals held in Kigali in 2019, and Kisumu in 2020.
The continent faces isolation through travel bans by some western countries over Omnicron, the latest coronavirus variant, even as it battles low vaccine access and uptake.
"We are now meeting in Accra to look at what the two years (of the pandemic) have taught us," Dr Kiboro said.
"Then, we were told that Africa was going to be wiped out by Covid-19. And here we are, more resilient than any other continent. We have survived better than the naysayers."
In the last two years, the continent has also witnessed a boom in ideas and innovation as countries tried to work around the fears of the pandemic to keep their economies running and afloat.
"We witnessed a boom in innovation. Ghana and Rwanda were collecting samples with drones. Uganda had its biggest coffee sales. Kenya's Revitalise firm based in Kilifi became the continent's largest producer of syringes," Dr Kiboro added.
"In 2020, they did over 70 million syringes. We saw innovation by students in Africa. From ventilators to hospital beds and such. That is the spirit of Kusi Ideas."
The continent has also been challenged to push its own ideas and stories, as this will help fight stereotypes against it by western media.
Opportunities
"For the next two days, we shall have panelists discuss Africa's infrastructure and the opportunities we must improve. We shall also see discussions touching on intra-African trade, politics of Covid vaccines, vaccination apathy, technology, innovation. All this will be done to enable Africa to create African wins in the next century," Dr Kiboro said.
He added: "The return of the African diaspora is also an important area of discussion this year, given the huge intellectual and financial capital they bring, which Africa needs to tap. Finally, we shall also talk about the open borders, and why it is important for the continent to grow. Let us invent the Africa we want tomorrow. We need to see our continent take its place in the international community."
Neo-colonialism
Speaking at the festival, Wamkele Mene, secretary general of the African Continental Free Trade Area (AfCFTA) Secretariat, castigated western countries for turning the continent's biggest public health crisis into a political chess game in the last two weeks.
Mr Mene termed the current vaccine politics modern-day colonialism and apartheid.
"What we are seeing around the world is exactly what the apartheid regime in South Africa did. These restrictions are imposed because we are Africans," Mr Mene said.
"This points now that we must accelerate our ability to manufacture and produce vaccines, generic drugs to improve public health, and position ourselves for industrial development capacity and ensure that we rely less on others to improve our public health."
Mr Mene appealed to African countries to diversify their markets post-Covid-19, adding that the Kusi Ideas Festival offers a good chance to see how the continent transforms.
"When global supply chains are interrupted, the continent suffers immensely," he said.
"And the pandemic has shown that with our dependence on Asia, mostly China and India, the continent is at a weak position.
"We see most of the food, pharmaceutical imports, and in the 2019-20 period, we saw the continent struggle, as it sought to manage the pandemic," Mr Mene said.
Africa has now been challenged to accelerate industrial development through regional value chains.
"We have developed a private sector strategy focusing on agro-processing, automotive sector, pharmaceutical, and transport and logistic sectors, based on potential of import substitution and existing value chains.
"These value chains have the potential to contribute $11 billion in production and $5 billion in trade, creating almost a million jobs. This strategy will help in improving investments on the continent, and guiding the private sector where to invest," Mr Mene said.